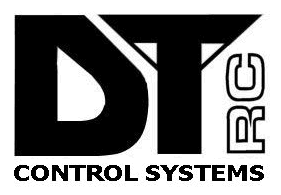 DT Receiver - Rx43d-v5 Details
---
SOFTWARE: v503


Rx43d-1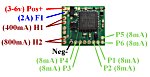 Rx43d-2

Rx43d-3/32
Rx43d-4

Rx43d-x

Rx43d-x.
SOFTWARE: v510/520


Rx43d-1

Rx43d-2/2LS

Rx43d-3/32
Rx43d-4

Rx43d-x

Rx43d-x.
PRODUCT: Rx43d-v5
PCB ID: 43d


---
DESCRIPTION:
Receiver for miniature planes, trains and automobiles driving motors, actuators, servos, leds and other items.

SPECIFICATION:
Rx43d-32 is set up with simpler outputs than Rx43d-3 but is otherwise identical.
The software is identical for all variants except Rx43d-2LS which is different.
The hardware is identical for all variants.

Variant


Rx43d-1
Rx43d-2
Rx43d-2LS
Rx43d-3
Rx43d-32
Rx43d-4
Details
'H' outputs:
(H-Bridges)
1
1 x 400mA
2
1 x 400mA
1 x 400mA
3
1 x 400mA
1 x 400mA
1 x 800mA


4
1 x 400mA
1 x 400mA
1 x 800mA
1 x 800mA*


'H' outputs are reversable ESC's for brushed motors (cars, trains) and actuator steering
2 can be used for 2-motor steering (tanks)
128 step PWM control

* H4 is 8mA without ADD1 and 800mA with ADD1

'F' outputs:
(Fets)
2
2 x 2A
2
2 x 2A
2
2 x 2A
2
2 x 2A
'F' outputs are non-reversable ESC's for brushed motors (planes) and variable voltage/on/off switching
2 can be used for steering with 2 motors (planes), 2 muscle wires (nitinol, flexinol) and 2-coil actuators
2 can be converted to a reversable H output with ADD1/2
1 can be used for a motor, led, horn, buzzer, etc.
64 step PWM control


'P' outputs:
(Pads)
8

6

4

2

'P' outputs are signal pads for Servos and low current on/off switching (<8mA)
Special programs for car indicators, brake, reverse, flasher, headlights and other switching
Can be used with Limit Switches on Rx43d-2LS
256 step Servos


Size:
11.8 x 12.9 x 2.2mm
Weight:
0.34g
Pad spacing:
1.27mm (0.05")
Voltage:
3-6v
Current:
13mA
Modulation:
2.4GHz compatible with:
- DSM2 Air - v502/v503/v510/v511/v520
- DSMX - v520
- DSM2 Surface - v502/v503/v510/v511
Channels:
12ch max - v520
7ch max - v502/v503/v510/v511
Range:
Indoor
INSTRUCTIONS AND PROGRAMMING:

---
RX43d-3 EXAMPLE:



Rx43-3


1s lipo
| | |
| --- | --- |
| | Rx43-3-v5 demonstrating control over 3 motors with integrated forward/reverse left/right steering mix. |
Home ¦ Videos ¦ About ¦ Buy ¦ Email