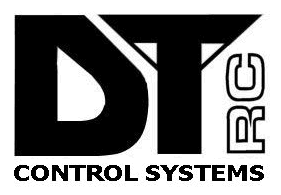 DT Tx1 Transmitter
---


PRODUCTS: Tx1-M and Tx1-J


---
DESCRIPTION:
Tx1 is an AR6100 type receiver reprogrammed to be a DSM2 compatible short range transmitter.
Tx1-M is intended to be used as a 7ch 'module' with an older transmitter.
Tx1-J has a 5-way joystick that allows single-handed control of a simple plane or any train.

FEATURES:
Tx1 can accept PPM channel orders from JR, Futaba, Multiplex and other makes that use these channel orders.
It accepts systems that idle high and low (normal and inverted PPM).
It's known to work with transmitters that have 4 or more channels.

EXTRA REQUIREMENTS:
To use as a module you will need a 3.3 or 5v regulator if it is to be powered from an 8 cell Nicad.
Some PPM signals exceed 3.6v so you may need a 3.3v zener diode and 1000 ohm resistor to limit the voltage.
The PPM output on some transmitters is 'open collector' and needs a transistor to properly control the input to Tx1.

INSTRUCTIONS:

Home ¦ Videos ¦ About ¦ Buy ¦ Email