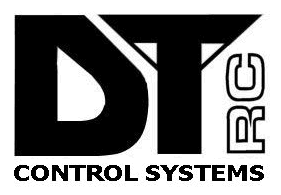 STA1 - Servo Throw Adjuster
---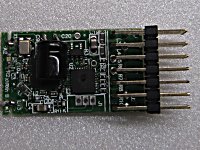 STA1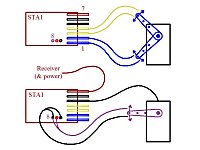 Pin functions
1. DESCRIPTION:
STA1 allows you stretch or reduce a servo's throw and reverse its direction. It is not a receiver.
It has to be connected to a receiver (not supplied) with a male to male servo lead (not supplied).
It controls one servo.
2. CONNECTIONS:
Pin7: Input from receiver (power and signal).
Pin6: Servo output (reversed).
Pin5: Servo output (normal).

3. OTHER PIN FUNCTIONS:
Pin4: Increase high side throw.
Pin3: Decrease high side throw.
Pin2: Decrease low side throw.
Pin1: Increase low side throw.
Pin8: Adjust neutral.

4. OPERATION:
Connect Pin7 to any servo output on a receiver.
STA1 will normally be powered from the receiver. It can be powered with 3.2-10v.
The STA1 led should have a very weak flicker every 0.5s while a pulse is detected.

Connect a servo to Pin5 (normal) or Pin6 (reversed).

---
5. CHANGING THROWS:
The bottom row of pins is Negative, middle is Positive and top is Signal.
Throws are changed by connecting Signal to Negative with the 'Bind Plug' provided. Changes are saved automatically.
Throws change by one 'trim click' every second. The led will flash and servo can be operated to see the effect.
'Low' and 'High' side throws (and the middle Neutral position) can be changed by up to 64 trim clicks each way.
The led stays on for 3s when throws are returned to their 'mid' position.
6. CHANGING Mid POSITION (NEUTRAL):
It can be less easy to adjust the middle position because 'Pin8' does not have connectors.
So if the mid position is important, try to set this up first with mechanical adjustments.
To shift the mid position to the 'high side', connect Pin8 to the nearby Positive pad.
To shift the mid position to the 'low side', connect Pin8 to the nearby Negative pad.

Home ¦ Videos ¦ About ¦ Buy ¦ Email